Texas Ticket Dismissal Details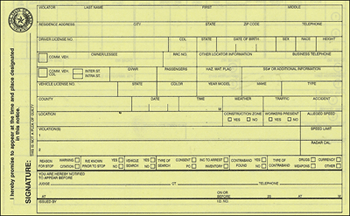 Most course participants take our Texas Defensive Driving / Drivers Safety Course (DSC) for ticket dismissal. Upon completion of the course, you will be allowed to dismiss any one of the moving violations shown on the Texas ticket you were issued.

You are eligible to request this Defensive Driving course for Texas Ticket Dismissal if you:
• Have not requested and taken a Texas driving safety course / Texas Defensive Driving course for a traffic offense with the last 12 months.
• Are not currently participating in any Texas defensive driving course for another traffic violation.

If you were cited for any of the following, you are not eligible to take Texas defensive driving for ticket dismissal.
• Speeding 25 mph or more above the posted speed limit
• No insurance or failure to maintain financial responsibility
• Leaving the scene of a collision
• Passing a School Bus, or
• If you were cited while driving in a Construction Zone.
• If you have a commercial driver's license you are not eligible to take defensive driving

If you were cited while operating a motorcycle, you may be able to receive a ticket dismissal by taking a Motorcycle Operators Training Course (MOTC). The eligibility for requesting a Motorcycle Operators Training Course is the same as the Defensive Driving / Driver Safety Course with the exception that you must have been cited while operating a motorcycle.
Please note that you can only take Texas defensive driving for Texas ticket dismissal once per year (once every 12 months). Additionally you MUST request permission to take this driver safety course for purposes of ticket dismissal by the appearance date shown on your ticket. To take defensive driving and get your violation dismissed, you must complete these steps with the court.

1. Request permission to take defensive driving for dismissal of your ticket by the appearance date shown on your ticket.

2. Complete our driver safety course before the deadline established by the Court when or if permission is granted.

3. Obtain a copy of your driving record from Texas Department of Public Safety within the deadline given by the court. (Our company will order this on your behalf for a fee if you select this option during enrollment.)

4. Show proof of driving record and certificate of completion to the Court by the court imposed deadline.

Your defensive driving certificate of completion will be mailed directly to you at the address you provide during course registration. (If your due date is coming soon, we can rush the certificate to you for an additional fee.)

This Texas Defensive Driving course / Texas Drivers Safety Course (CP156) has been created to adhere to the Texas Education Agency Driving Safety School specifications and has received approval by the Texas Education Agency.
Course Pricing: Our course for Texas ticket dismissal is just $25, the lowest price available by Texas State law. We accept credit cards, debit cards and checks/money orders. If you're short on funds, that's no problem! Simply select our "pay later" option during registration.
Click HERE to register!