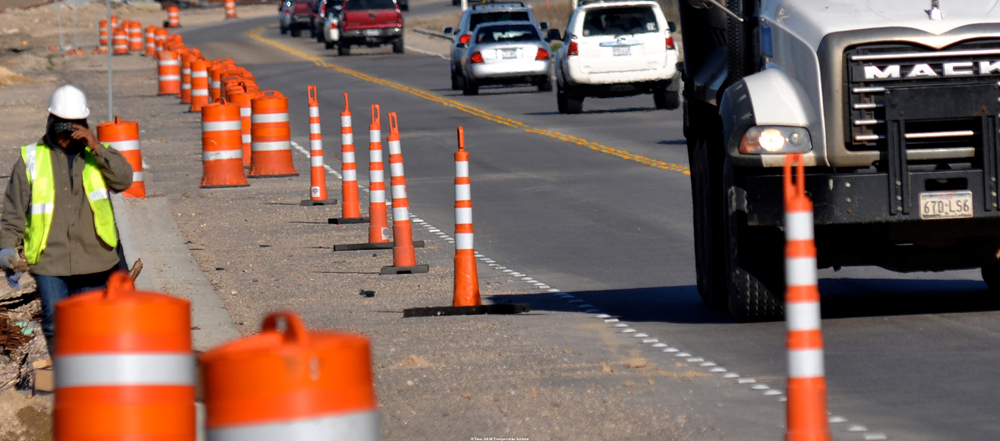 Speeding through a work zone increases the risk of hitting construction workers, potentially causing serious injuries or fatalities. TxDOT officials in El Paso are reminding residents about the importance of obeying speed signs in these zones in order to lower this risk, especially since more construction is expected in the city. Drivers who are cited for speeding in a work zone should note that they are not eligible to have their ticket dismissed after taking a defensive driving online course Texas.
Going too fast in a work zone can result in fines that are as high as $2,000. Drivers should keep in mind that fines for moving violations are doubled in work zones when construction workers are present. Drivers can also end up with fines that are higher than $2,000 if they cause a fatality due to driving too fast or drinking while driving. Although some drivers can have a traffic ticket dismissed by taking an approved defensive driving course, this does not apply to tickets that were issued in work zones. This means that drivers cannot have points on their license removed after a work zone citation, which can lead to higher insurance rates or stiffer penalties if they are cited for other traffic violations.
In El Paso, TxDOT officials are taking steps to reduce the risk of construction workers being hit. This is mainly due to a 13 percent increase in work zone crashes in 2015, as well as fatalities that resulted when a drunk driver struck construction workers by driving through a set of barriers. In addition to reminding the public about the importance of slowing down in work zones, they have also set up large trucks with signs to protect construction workers.
No matter what part of Texas drivers are in, these reminders are a crucial part of making sure construction workers stay safe on the job. Drivers should remember to slow down to the posted speed limit when driving through work zones, especially when work crews are present. Although most road work is done early in the day, drivers should watch for workers at all times when going through construction zones.
If you have a traffic ticket, contact 247TexasDriverSafety at 1-888-718-3927. We have the most convenient online defensive driving course Texas has to offer.